Resources for Older Adults and Caregivers in Georgia
Georgia Crisis & Access Line (GCAL)
Are you seeking help and information related to mental illnesses, drug/alcohol addiction, or developmental disabilities? Whether you need to get help in a crisis, access services, or find long-term support, GCAL is here for you, your family, friends, and clients.

GCAL, a service of the Georgia Department of Behavioral Health and Developmental Disabilities (DBHDD), is staffed by counselors who can connect callers with outpatient services, mobile crisis help, detoxification services, stabilization, and more. GCAL is available to people of all ages 24/7, in all parts of Georgia.

GCAL dispatches 24/7 Mobile Crisis Services to 159 counties in Georgia. This service sends a mental health professional to the home to assess people with urgent psychiatric needs. You may call on behalf of another person who needs help. It is ideal for you to be physically present with that person at the time.
Some common reasons for calling Mobile Crisis include:
Thoughts of suicide
Threatening violence or harm toward others
Altered mental status that could pose a danger to the individual or others. GCAL can link callers to a variety of related services. 
Aging and Disability Resource Connection
Other Resources
Mental Health America
Visit to learn about common types of mental health conditions.
Rosalynn Carter Institute for Caregiving
Visit to learn about services and support for professional and family caregivers
National Alliance on Mental Illness – Georgia
770-234-0855
NAMI Georgia provides resources, support, training, and advocacy to promote recovery and improve the quality of life for Georgians diagnosed with a mental illness and their families.
Alzheimer's Association – Georgia Chapter
1-800-272-3900
For information and help related to Alzheimer's Disease and other forms of dementia, contact the Alzheimer's Association's 24/7 Helpline.
National Suicide Prevention Lifeline
1-800-273-TALK (8255)
If you or someone you know is in crisis and would like to talk to a crisis counselor, call the free and confidential National Suicide Prevention Lifeline. TTY users should call 1-800-799- 4TTY (1-800-799-4889). You can talk to a counselor 24 hours a day, 7 days a week. Call the Lifeline:
To talk to someone who cares

If you feel you might be in danger of hurting yourself

If you're concerned about a family member or friend

To find referrals to mental health treatments and services in your area.
Always call 911 if you are in an immediate medical crisis.
Medicare and Your Mental Health Benefits
This official government booklet has information about mental health benefits for people with Original Medicare, including:
Who is eligible

Outpatient and inpatient benefits

Prescription drug coverage

Help for people with limited income
Fuqua Center for Late-Life Depression
404-712-6941
The Fuqua Center, an initiative of Emory University Department of Psychiatry and Behavioral Health Sciences, participates in a statewide network that offers outreach, resources, and treatment.
Mental health resources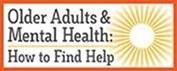 Click here  for a listing of Community Service Boards for questions regarding behavioral health services for older adults.
Click here  to print the "How to Find Help - Resources for Older Adults and Caregivers in Georgia" list shown on this page.