Dementia Friends
df_logo_web-01.jpg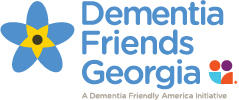 Thousands across the world are coming together to create dementia-friendly communities and improve the lives of people living with dementia. In Georgia, 140,000 people are living with dementia, and they continue to be vital members of our communities – shopping, dining, working and thriving. They continue to interact with store owners, restaurant staff, first responders, banking employees and myriad other professionals each day. This is where Dementia Friends comes into play. Dementia Friends is a social action movement that aims to improve society's understanding of dementia.
The goal of this program is to help everyone in a community understand five key messages about dementia, how it affects people and how each of us can make a difference for people living with dementia. A Dementia Friend participates in a one-hour information session run by a Dementia Friends Champion.
Aline Stone
For more information on Dementia Friends, visit dementiafriendsusa.org. If you would like to become a Dementia Friends Champion or bring Dementia Friends to your community, please contact Aline Stone. 
Join us as we help create a more dementia-friendly Georgia.