Georgia's Annual Senior Hunger Summit merging into the Annual ADRC Healthy Communities Summit starting in 2022
ADRC Save the Date.png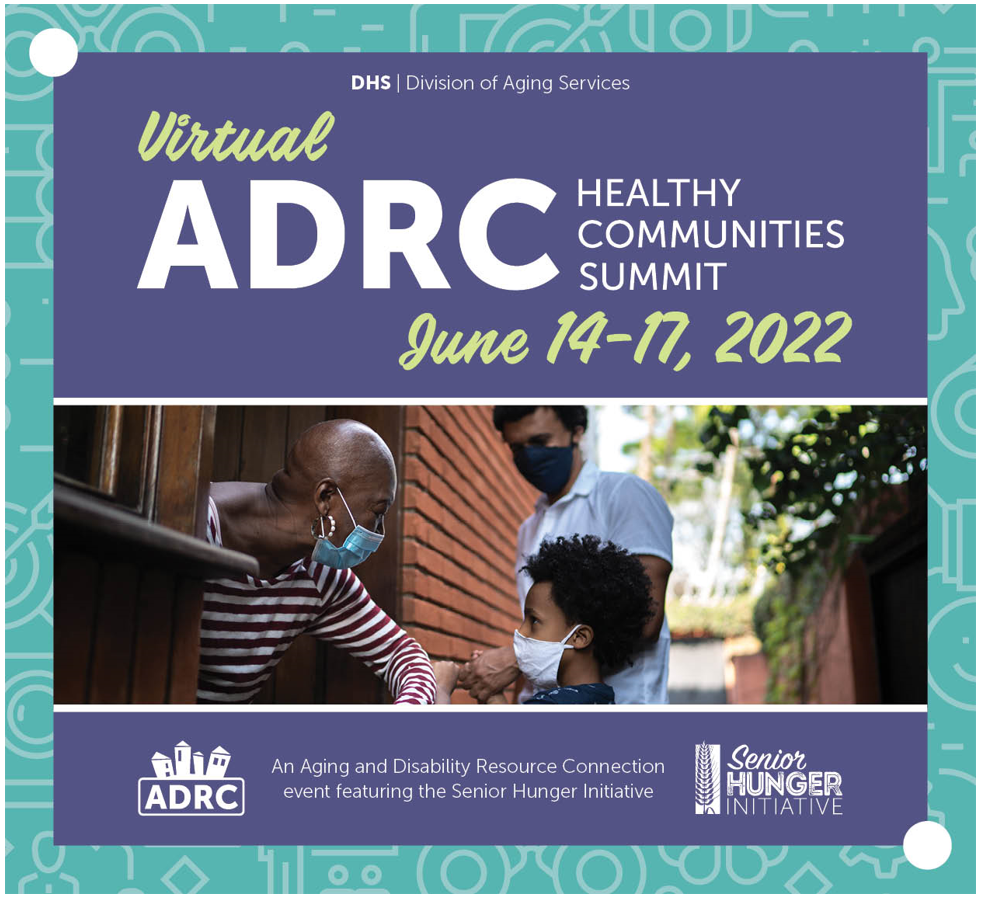 Georgia's 2022 ADRC Healthy Communities Summit
We are excited to announce the dates of the 2022 Virtual Aging and Disability Resource Connection (ADRC) Healthy Communities Summit, presented by the Georgia Department of Human Services Division of Aging Services. The event will be held June 14-17, 2022. We are excited to offer the summit free once again for all attendees.
In 2022, the ADRC Summit will include the Senior Hunger Initiative (formerly offered as the stand-alone Senior Hunger Summit). You can expect the same great conference experience, but now in one single event!
Registration and details will be available in spring 2022. Until then, our call for exhibitors is officially open! For more details, view our  Exhibitor Prospectus  and  Conference at a Glance . We look forward to showcasing you!
Visit the ADRC Healthy Communities Summit site to learn more.
Georgia's Senior Hunger Summit History
Each year since 2016, the Georgia Department of Human Services Division of Aging Services sponsored the Senior Hunger Summit. The summit addressed the five focus areas of the State Plan to Address Senior Hunger (Implemented in December 2017). The focus areas are Today's Seniors, Health Impact of Senior Hunger, Food Access, Food Waste and Reclamation and Meeting the Community Needs. The Summit brought together a diverse group of experts, policymakers and community stakeholders to heighten awareness of senior hunger in Georgia and nationally, unearth issues accompanying the problem, highlight best practices and sought opportunities to combat senior hunger. And in 2021, we began awarding the Senior Hunger Corporate Leader Award, which the Kroger Company received in its inaugural year. This historic summit just takes on a different form within the ADRC Healthy Communities Summit, with the same great engagement and goal of helping to raise awareness and seek solutions to address senior hunger in Georgia. Mark your calendars and plan to take part in this free, informative and exciting opportunity! 
To learn more about Georgia's State Plan to Address Senior Hunger, visit us online at https://aging.georgia.gov/get-involved/senior-hunger or e-mail us at [email protected].
Georgia's State Plan to Address Senior Hunger