ADRC Healthy Communities Summit
Georgia's Annual Senior Hunger Summit merging into the Annual ADRC Healthy Communities Summit starting in 2022
ADRC Save the Date_smaller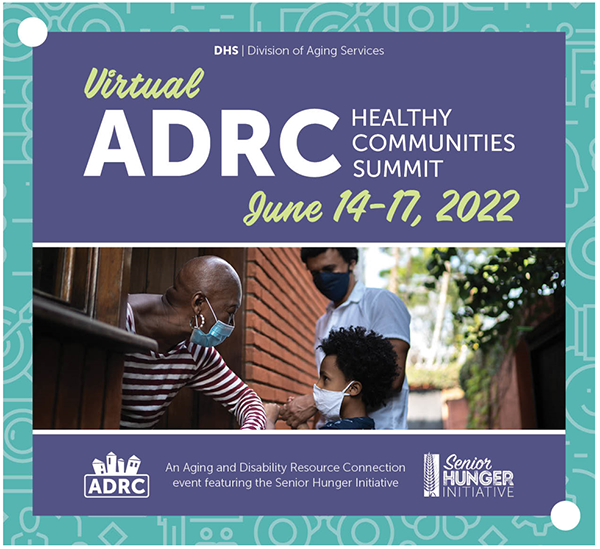 Registration is now open for the 2022 Virtual Aging and Disability Resource Connection (ADRC) Healthy Communities Summit, presented by the Georgia Department of Human Services' Division of Aging Services. The free event will be held June 14-17, 2022. We look forward to seeing you there!
Click the registration button to claim your spot! In preparation for the conference:
ADRC Summit Registration
Registration, photo submissions and award nominations close Friday, May 13, 2022 at 11:59 p.m. If you have questions, email us at [email protected].
Target Audience
Senior center managers, Area Agency on Aging staff, dietitians, nurses, care coordinators, nutrition service providers, health educators, social workers, Parks & Recreation personnel, caregivers, and others involved in planning and providing care for adults and older adults and those with disabilities
No other conference in Georgia brings the diversity of professionals in one place like the ADRC Healthy Communities Summit. 350 Professionals. 10 Fields of Interest.
Aging | Disability | Developmental Disability | Mental Health | Housing | Transportation | Public Health | Medicaid | Medicare | Elder Rights
The 2022 Conference Program will be made available in 2022. Click to view previous conference agendas for
2016 ,
2017 , 
2018  and
2019 and
2021 . Due to the COVID-19 pandemic, no ADRC Summit was held in 2020.